How to Choose FPV Goggles in 2023
Choosing FPV goggles in 2023 means locking yourself into a video ecosystem making this decision more important than ever. Read more to find out why.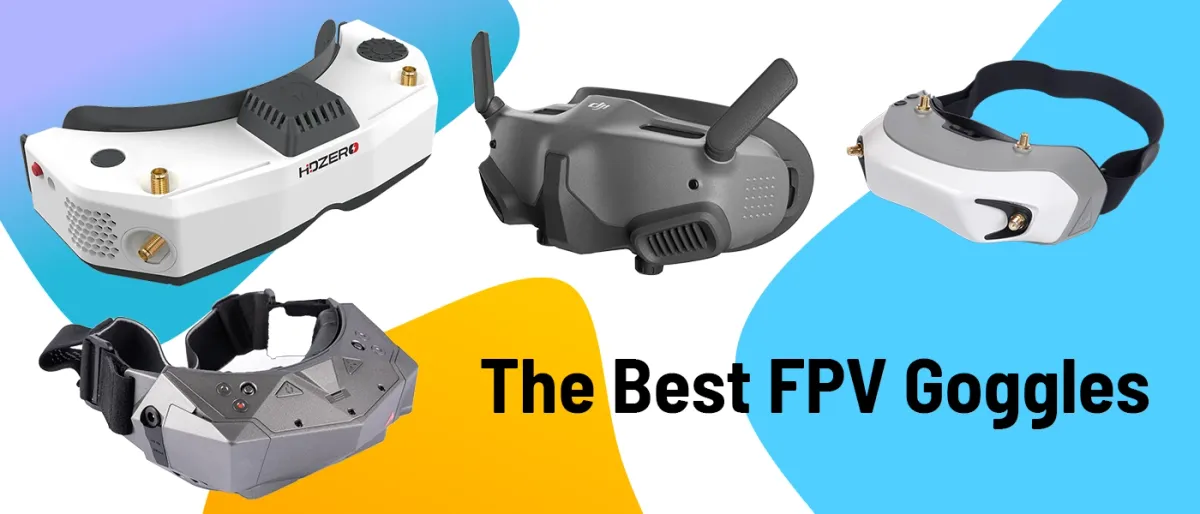 You've watched some cool FPV videos, decided to try this FPV thing out, maybe bought a radio and spent some time in the sim. Now you're ready to dive into building or buying an actual quad to fly. You're thinking about what kind of quad you want to get, but really, the question you should ask yourself first is what video ecosystem do you want? The answer will determine what kind of goggles you will purchase. That answer will also determine what kind of video transmitter you'll need in your quad.
In this issue, we'll discuss the different digital HD ecosystems that are available today. We'll review the FatShark Dominator and Walksnail Avatar, DJI Goggles 2 and the HDZero Goggles. We're focusing less on analog, but you can learn more about analog video transmission here.
Jump down for a side-by-side comparison of these FPV video systems.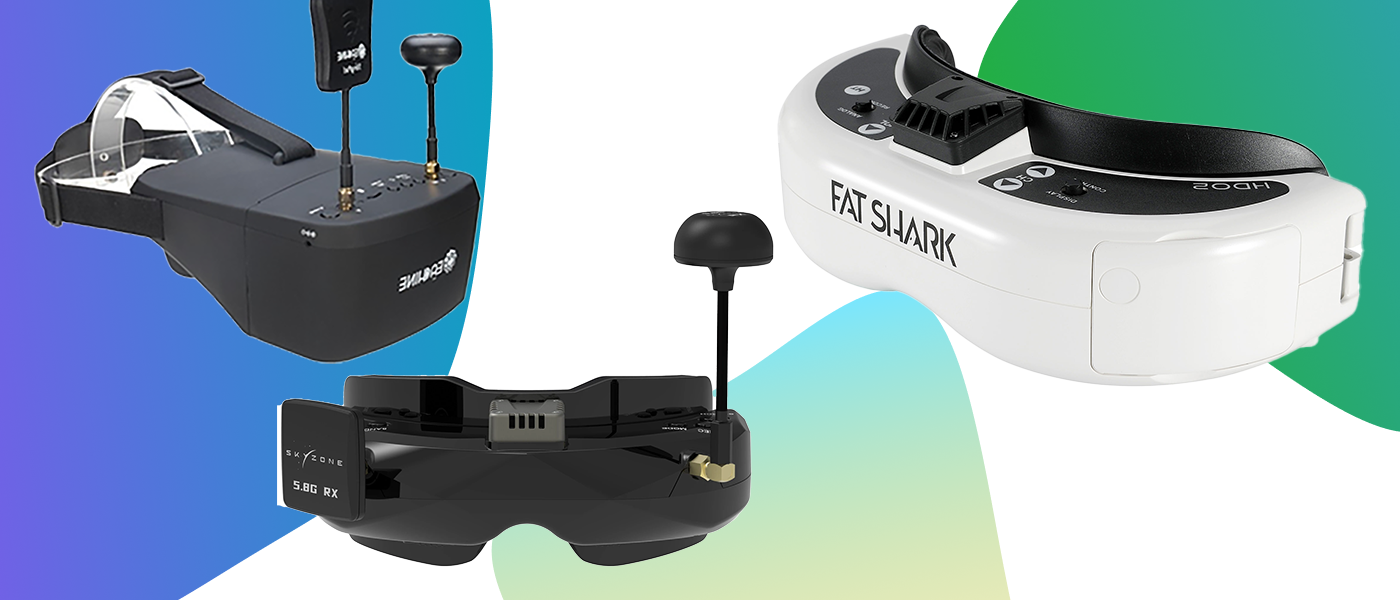 Context and History
When analog video in FPV reigned supreme, you could get almost any video receiver to work with any video transmitter. In FPV today, choosing your goggles means choosing a video ecosystem. Manufacturers and brands now have their own goggles and/or video receiver, video transmitter, and FPV camera all locked into their own ecosystems.
In our how to choose a VTX issue, we dug into how to choose the right video transmitter for you. While that issue is still relevant, it will become less relevant as manufacturers wall off their video systems to push their own proprietary products. That's why once you choose what ecosystem to go with, you're locked in, making your goggle selection a very important upfront decision.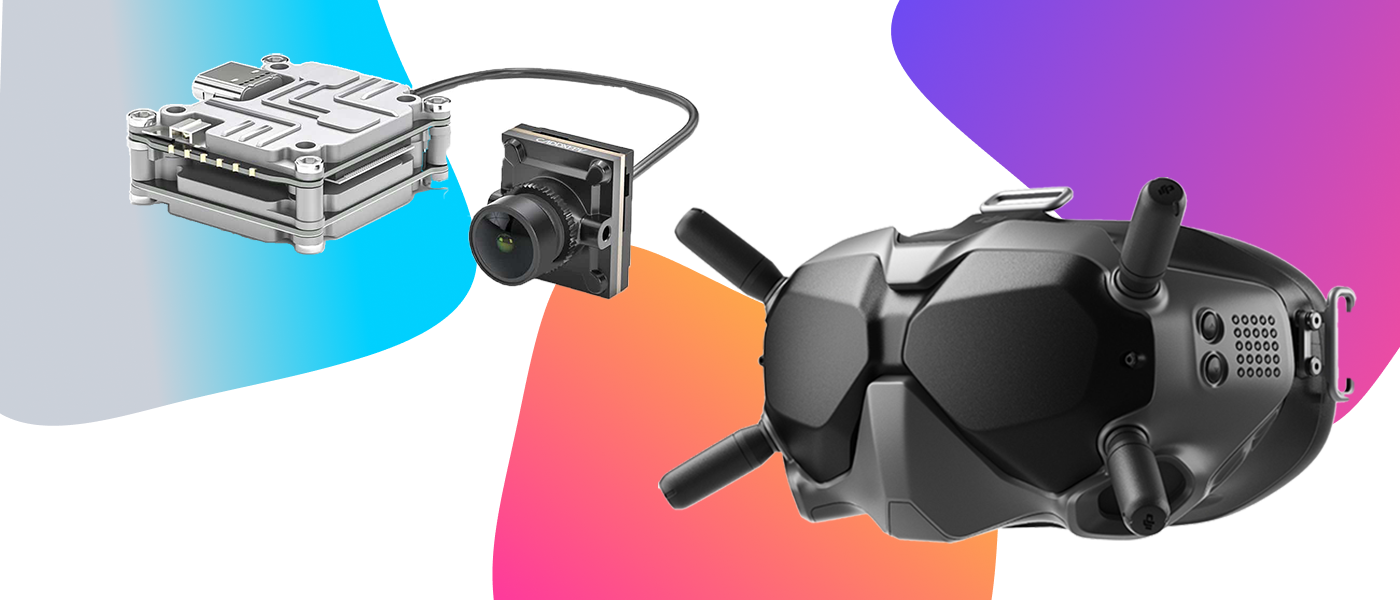 DJI Goggles V2
DJI was the first to introduce digital HD video to FPV in 2019 with the DJI Goggles V1, Air Unit VTX, and FPV camera. Prior to that, your only video option was VCR-quality footage. DJI offered a product that introduced the FPV niche to a much wider audience. The video quality difference was like night and day, but so was the pricing. DJI goggles and VTX kit could be 3-4 times more expensive than an analog setup.
DJI validated that HD video for FPV. In 2021, DJI introduced FPV to an even wider audience by releasing their own FPV drone and an incremental update to the goggles which had mostly the same specs.
The DJI Goggle and VTX ecosystem is very good. It's been time-tested and many pilots use it today because of its reliability and HD video feed. However, DJI tends to ignore their community or update their products infrequently. This sours some FPV pilots' perception of the company. It's worth noting that many professional FPV pilots use the DJI system.
The DJI system is recommended for any pilot except hardcore racers where even the slightest change in latency can be felt.
Check out the DJI Goggles V2 here.
Check out popular VTXs for DJI here.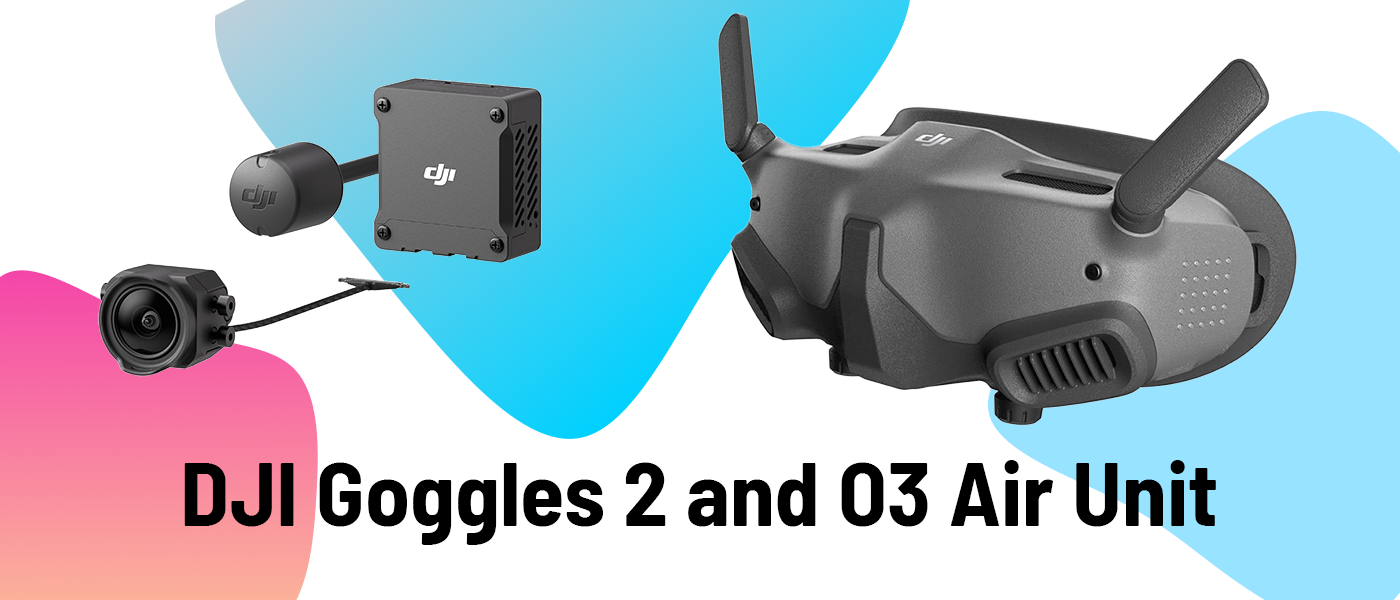 DJI Goggles 2
In September 2022, DJI released the DJI Avata FPV drone accompanied with the successor to the DJI Goggles V2, the DJI Goggles 2. Yes, it's that confusing.
The following November, DJI released the long-anticipated O3 Air Unit, the successor to the original Air Unit and Air Unit Lite.
The Goggles 2 are completely redesigned with 1080p OLED screens and integrated and foldable antennas.
As of this writing, the Goggles 2 are only compatible the Avata drone and the O3 Air Unit. While the Goggles V2 are compatible with the Avata drone, the O3 Air Unit, and all of the older DJI, Caddx, and RunCam Air Units.
The new Goggles 2 and O3 air unit are currently the only combo that records native 4K. While not on par with the latest and greatest GoPro 11, the O3 produces high quality footage that can be directly stabilized in Gyroflow.
The Goggles 2 are a great option for those who want the best video quality out of their VTX system.
We compare the new Goggles 2 and O3 system with original DJI system here.
Check out the DJI Goggles 2 here.
Check out the O3 Air Unit here.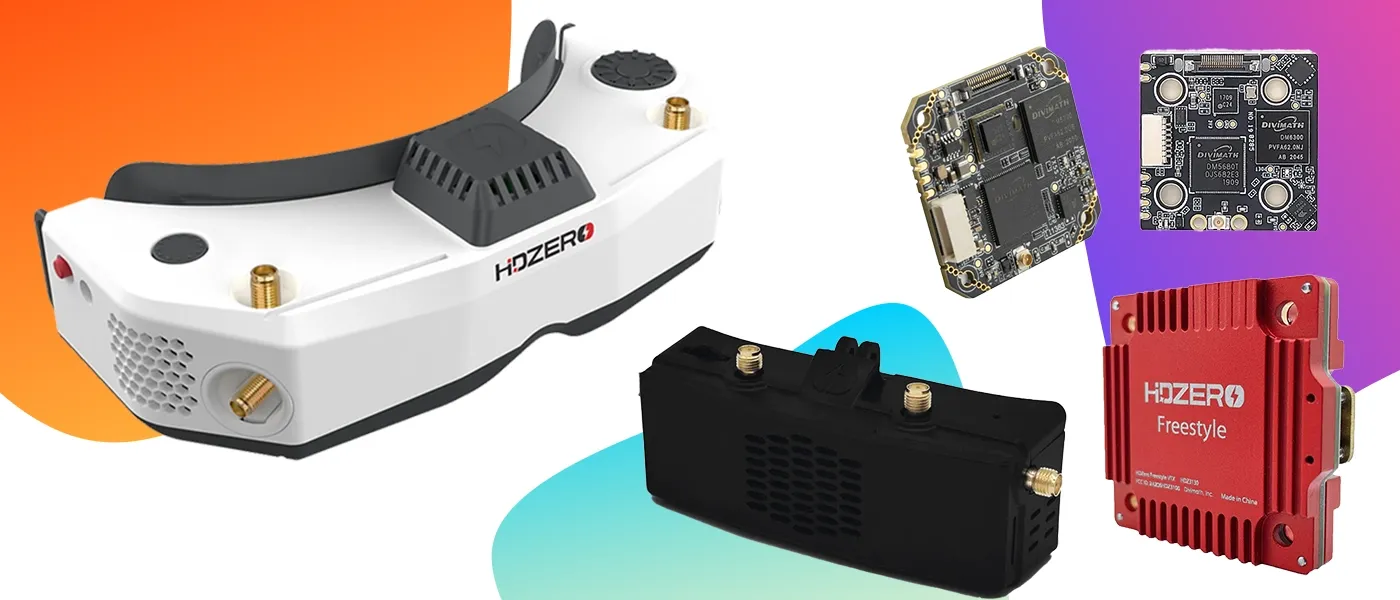 HDZero
After the successful introduction of the DJI system, Fat Shark, the leading analog FPV goggle manufacturer, released the Shark Byte digital HD system developed by Divimath. Like DJI, Fat Shark introduced a set of goggles, video transmitter, and FPV camera. Not long after, Divimath incorporated as HDZero and they began to sell their own HDZero-branded products which also support the Shark Byte system. (Yes, it does get more confusing!)
HDZero addressed the latency problem that prevented many pilots from using the DJI system. Reviewing footage of HDZero against DJI footage in the same flight scenarios, HDZero digital video is faster and more responsive, but still has that fuzzy VCR look to it. HDZero video is a lot better than analog, but not as crisp as footage from the DJI system. It's also worth noting that HDZero as a company is focused on FPV pilots and tends to listen to their user base to create better products.  
As of 2023, HDZero's strength is offering a variety of HD video transmission parts and devices for almost any use case. They make VTXs in various sizes and configurations allowing you integrate HDZero into pretty much any quad. And with their latest release of the HDZero Goggles, pilots now have the option to buy HDZero Goggles or just the video receiver for third-party goggles. While the goggles aren't the best in video quality compared to DJI and Avatar (see below), they provide incredible value for what they are: the most versatile pair of FPV goggles today.
Currently, you can only get the HDZero Goggles for $495 from the source. Pre-order the HDZero Goggles. Third party retailers have not been stocking them yet. When they do, we'll be tracking the prices for the HDZero Goggles here.
Here are some common goggles people pair with the HDZero VRX:
These are the available VTXs for HDZero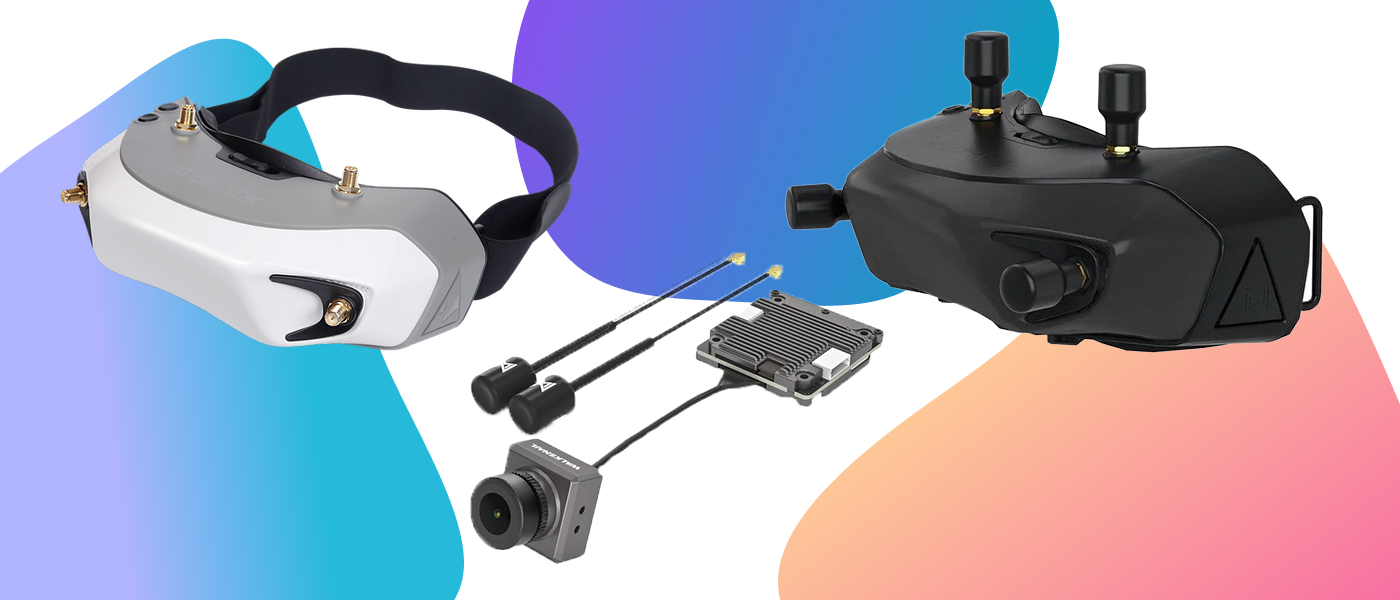 Walksnail Avatar / Fat Shark Dominator
It's 2022, and all of a sudden, rumors and leaks of new HD video systems are abound. Fat Shark teases their new Dominator digital HD video goggle at Rotor Riot's Rampage FPV event. The very same day, Walksnail, a new subsidiary of Caddx, announces their own digital HD goggle, the Avatar. Aside from color, they look exactly the same.
In the following weeks, it comes to light that Fat Shark manufactures their Dominator goggles, and partnered with Walksnail to use their Avatar HD video system and incorporate Walksnail video receivers. Walksnail also manufactures their own Avatar goggles.
Both the Dominator and Avatar are compatible with the same 25.5x25.5mm video transmitter and FPV camera, both of which come in micro and nano variants.
Without getting into the details, the video quality is comparable to the DJI Goggles V2 system. The latency feels similar to DJI. The Dominator offers a lot of quality-of-life features that were absent in the DJI goggles like Betaflight OSD and 1080p on-device DVR.
The Walksnail Avatar ecosystem now offers a suite of video transmission products including:
Fat Shark Domintor Goggles with Avatar-compatible VRX
Avatar Goggles with Avatar-compatible VRX
Walksnail VRX to pair with third-party goggles
Micro and Nano VTX Kits micro and mini quads
Mini 1S VTX Kit for tiny whoops
Google / VTX System Comparison
| | DJI O3 | DJI | HDZero | Avatar | Analog (high-end) | Analog (budget) |
| --- | --- | --- | --- | --- | --- | --- |
| Goggles / VRX | DJI Goggles 2 | DJI Goggles V2 | HDZero Goggle | Fat Shark Dominator | Fat Shark HDO2 / ImmersionRC rapidFIRE | Eachine EV800D |
| VTX | DJI O3 Air Unit | Caddx Vista | HDZero Freestyle | Walksnail VTX Kit | RushFPV Tank Mini | Eachine Nano V2 VTX |
| Kit Cost | $878 | $735 | $550 | $660 | $688 | $140 |
| | | | | | | |
| Screen Resolution | 1080p OLED | 810p LCD | 1080p OLED | 1080p OLED | 960p OLED | 480p LCD |
| Aspect Ratio | 4:3, 16:9 | 4:3, 16:9 | 4:3 | 16:9 (4:3 coming soon) | 4:3, 16:9 | 4:3, 16:9 |
| Video Feed Resolution | 1080p 60fps | 810p 120fps, 810p 60fps | 1080p 30fps, 720p 60fps, 540 90fps | 1080p 60fps | 960 30fps | 480p 30fps |
| DVR Resolution | 4K 60fps | 810p 120fps | 1080p 30fps, 720p 60fps, 540 90fps | 1080p 60fps | 960 30fps | 576p 30fps |
| Latency | 28 - 30ms | 25 - 28ms | <14ms | 25 - 46ms | <10ms | 10 - 30ms |
| FOV Range | 51° | 30° - 54° | 46° | 46° | 46° | 50° |
| IPD Range | 56-72 mm | 58 - 70mm | 50 - 70mm | 57 - 70mm | 54 - 74mm | 56 - 72mm |
| Video Out | USB-C with App | Only with Smart Controller via USB-C | Yes via micro HDMI | Yes via USB-C to HDMI | Yes via mini HDMI | Yes via VGA |
| AV Input | No | Yes | Yes | No | Yes | Yes |
| OSD | Betaflight | Partial Betaflight | Betaflight | Betaflight | Betaflight | Betaflight |
| Max Transmission Power | Unspecified | 700mW, modded up to 1.2W | 1W | 700mW, modded up to 1.2W | 800mW | 400mW |
QuadPartPicker's Goggle Recommendations
When factoring in the price of the goggles, video receiver (if not built in), and transmitter, a top-of-the-line analog setup can cost more than the new Fat Shark Dominator setup and is comparable to a DJI setup. That said, you could have an analog setup for under $150.
DJI Goggles V2 is still the best and safest bet in HD video when measured against time in market and reliability. If you want HD video and plan on doing general-purpose flying, DJI is your best option today.
DJI Goggles 2 and O3 Air Unit is DJI's latest offering with a 1080p OLED screen and 4K DVR. It will be a couple of months before FPV manufactures start to offer pre-built drones with the O3 Air Unit. For those who want the very latest now, this is it, the only native 4K recording solution built into the FPV camera.
HDZero is a great alternative to DJI. Even compared to analog options, the HDZero Goggles provide a solid value for their versatility and quality. HDZero continues to iterate on features and create new products, have a wide array of options for any pilot, and actively support their user base. While HDZero video quality doesn't look better than DJI, but rather, look like upgraded analog. If you're going into racing, HDZero should be a top contender for you given the price point and latency when compared to other digital options.
Fat Shark Dominator and Walksnail Avatar are new additions to HD video, but being the newest comes with some limitations. All the features they announced aren't available yet, and not enough people have tested their true capabilities and limitations. They have an opportunity to make the product the best video ecosystem, but it's going to be a while before this is the case. It's also worth mentioning that these goggles don't have an AV out option which prohibits you from adding an analog adapter to your goggles to work with analog VTXs. Both DJI and HDZero support this.
A top-of-the-line analog setup can cost less than an HDZero kit, as much as the Walksnail Avatar system, and is comparable to a DJI setup. Latency will definitely be the lowest, but you're limited to analog video quality. This is a great option for racing pilots and purists.
A budget analog setup is the cheapest option by far. If you're budget conscious, you can get into an analog ecosystem for less than $150. This is great for anyone who wants to fly and wants to tinker, but is not ready to dive into HD video.
Once you've chosen your FPV video ecosystem, spec out a quad using our builder, and browse for goggles and VTXs on QuadPartPicker.