How to Pick the Best FPV Radio Controllers, Modules, and Receivers
Your radio is one place where a larger initial investment will go a long way, especially if you decide to stick with FPV long-term.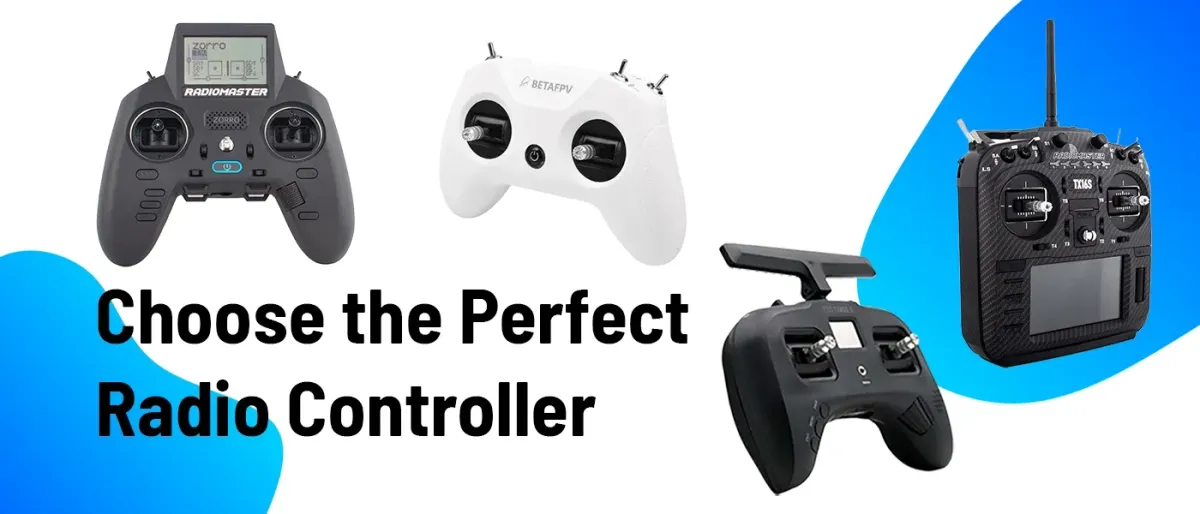 When getting into FPV, your first purchase is most likely going to be your radio transmitter (or TX). The radio takes your inputs and sends them to your quad's receiver, enabling you to control the quad. Your radio is a piece of equipment that you won't need to replace, even as you go from beginner to pro. While there are many considerations to take when selecting your radio, this is one place where a larger initial investment will go a long way, especially if you decide to stick with FPV long-term.
You might be reading this to just decide which radio you buy before jumping into a sim to learn to fly FPV, but understand that you are buying into a RF system as a whole when you buy a radio (akin to choosing Android vs. iOS), and should consider what kind of flying experience you're looking for. Below, we'll go over considerations for getting a radio, along with some of our recommendations.
If you don't have time to read through this, the TL;DR here is to invest in a radio that supports the RC link you want to fly with, features a module bay for future support, and offers your preferred form factor. In 2022, the general consensus is to select a radio that supports ExpressLRS (ELRS).
Value
Value is subjective, but if you're someone who plans to dive deep into FPV quads, and just RC in general, you'll get a lot of value from selecting a radio that gives you options. You can purchase a radio for as little as $45 like the BetaFPV LiteRadio 2 SE. And while that will allow you to fly in a simulator and with most quads that support the Frsky receiver protocol, its range is limited and you will not have the ability to upgrade it. However, with radios like the RadioMaster Zorro ($80) and TX16S MKII ($200), if you ever outgrow these radios or if new equipment has come out in recent years, you have the ability to upgrade them by purchasing external modules to make the most of what you've already purchased.
RF Systems
Before selecting a radio, you'll have to decide what RF system you'll be going with. These are radios/modules and receiver combos. Every time you build or purchase a quad, you'll need to make sure it comes with, or install, a receiver that's compatible with your radio. When considering your RF system, you'll be weighing the pros and cons between range, flying style, openness/continued support, and reliability.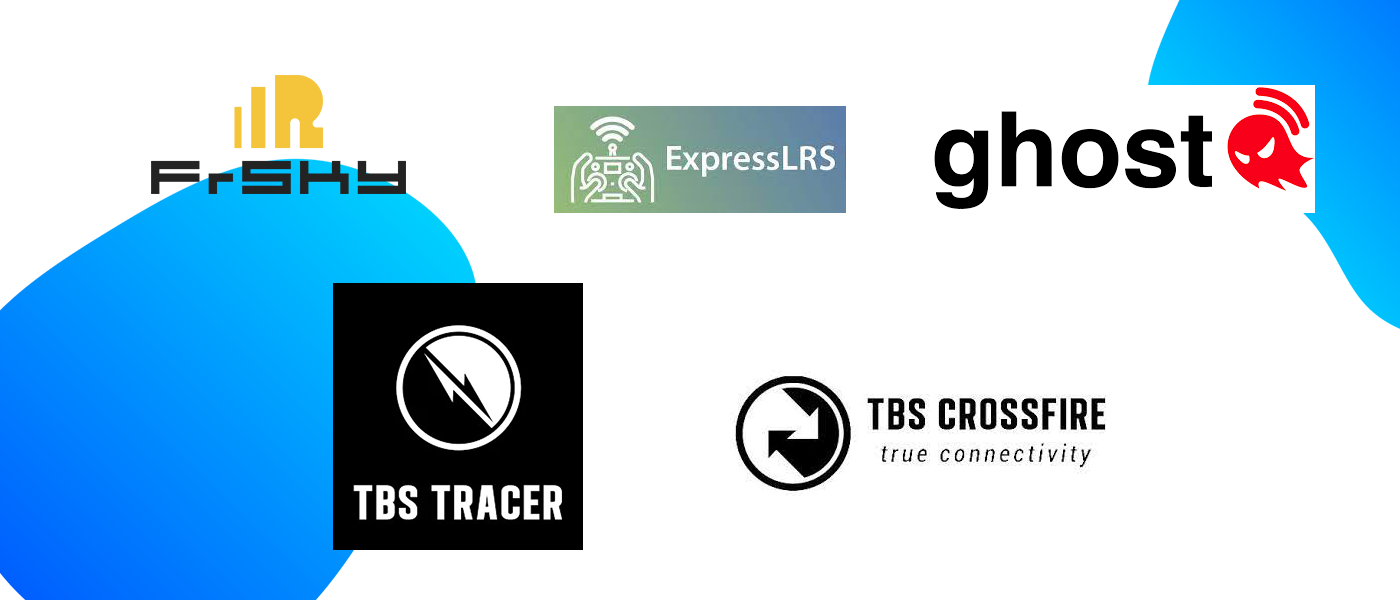 ExpressLRS
ExpressLRS (or ELRS) is a relatively new protocol that has had an incredible adoption rate in FPV. The general consensus in recent years is that if you're starting FPV today, buy a radio that has ELRS built in or has the ability to upgrade to ELRS via radio modules. This is primarily because ELRS has incredible range compared to other proprietary TX protocols and continues to be improved upon by a large dev base.
ELRS is an open source TX protocol. This means any manufacturer or brand can make their own ELRS equipment in a variety of form factors that will support existing gear. And because of this, it creates competition and drives down prices. Because ELRS is open source, anyone can contribute to the project and improve upon it. So if you buy ELRS gear today, chances are likely that it will continue to be supported long into the future.
The most common drawbacks and criticisms of ExpressLRS tend to fall into two camps:
Poor User Experience - Compared to something like TBS Crossfire (below) which has comparable power and range, setting up ELRS, binding your radio and receiver, and configuring preferences is more difficult. If you're looking for the iPhone experience, go with TBS, but if you're willing to spend a little more time or effort, ELRS is a better option because we love open-source anything.
Consistency - Here, we mean build quality and compatibility between devices. In theory, all ELRS products should work with each other. But because of "newness" and fragmentation between firmware versions, your initial setup might be difficult. There have also been reports of inconsistencies between brands, so your mileage might vary. Compare ELRS equipment on QuadPartPicker.
FrSky ACCESS/ACCST
Radios and receivers with Frsky's ACCESS or ACCST protocols are the most common in the FPV world. Frsky makes a suite of radios and receivers that works well together and have stood the test of time. If you buy a pre-built quad, chances are that it will come with a Frsky receiver. If you have a Frsky radio, these quads are guaranteed to be supported. And almost all multi-protocol radios support Frsky receivers. It's also worth mentioning that Frysky equipment tends to be cheaper than equipment supporting other protocols.
TBS Crossfire
The Crossfire protocol by TBS offers one of the best radio experiences available. It operates on the 915MHz (or 868MHz in Europe) frequency that allows for better range and penetration when compared to 2.4GHz. The user experience for setup is generally easy and painless. TBS makes a suite of radio controllers, modules, and receivers that is easily accessible. While TBS is one of the best TX protocols available today, ELRS is receiving a lot of attention these days because ELRS is also available in 915MHz, is cheaper, and continues to be improved upon.
TBS Tracer
The Tracer protocol is the TBS version of 2.4GHz that offers low latency while still providing more range than your typical 2.4GHz FrSky connection. It's also easy to set up like TBS Crossfire.
ImmersionRC Ghost
ImmersionRC's answer to TBS's Crossfire is the Ghost RC System. It operates on the 2.4GHz frequency, providing low latency and long range capabilities. With 2.4GHz, you can fly long range with less interference from other pilots. Ghost also tends to align with FPV racers more than long range pilots, but still provides the range that TBS pilots want. The decision between choosing TBS and ImmersionRC depends on whether you plan on doing more racing or long range flying. If you tend to race more, Ghost is better for you. For long range, Crossfire has demonstrated better reliability from just having been around for longer than Ghost.
Spektrum, FlySky, Futaba, etc.
There are a variety of other transmitter and receiver combos out here including Spektrum, FlySky, Futaba, etc. We won't cover these in detail because they tend to fall outside of the "best" category when it comes to features and value. There are certainly use cases in which these RC links are better, but for beginners in FPV, we wouldn't consider them given the other options above. In 2022, these protocols are still supported, but they aren't widely developed anymore, especially given that ELRS surpasses these systems in both price and range.
Frequency
Typically, your radio's frequency will either be configured with 2.4GHz or 915/868MHz. Some people use 1.3MHz gear, although it's more rare with less support.
2.4GHz provides standard range and can give you a clear range of 1 mile (1.6km). It also encounters less interference with other pilots, has lower latency, and features smaller RX antennas.
915/868MHz is typical for long range setups and can give you about 25 miles (40km) of range and up to 60 miles (100km) in good flying environments.
It's worth noting that ELRS offers both 2.4GHz and 915/868MHz options. The 2.4GHz version has been tested for up to 18 miles (30km).
Unless you're planning on flying long range, you can stick to a 2.4GHz radio/receiver combo. If you ever need the range and have a radio with a module bay, you can easily upgrade to a long range setup by purchasing a transmitter module.
Form Factor
Radios tend to come in two distinct form factors: classic block style radio (TX16S) or video game style (Zorro). Your biggest decision when considering form factor is whether your radio comes with enough switches and buttons. If you ever want to use your radio for wing drones or really specific use cases that require additional switches and functionality, the classic style radio is a more future-proof choice. If you're someone who pinches your gimbals rather than just using your thumbs, the classic style is also the better choice. But if you're looking for portability and just want to fly quads, the video game style is the better choice. Form factor comes down to personal preference.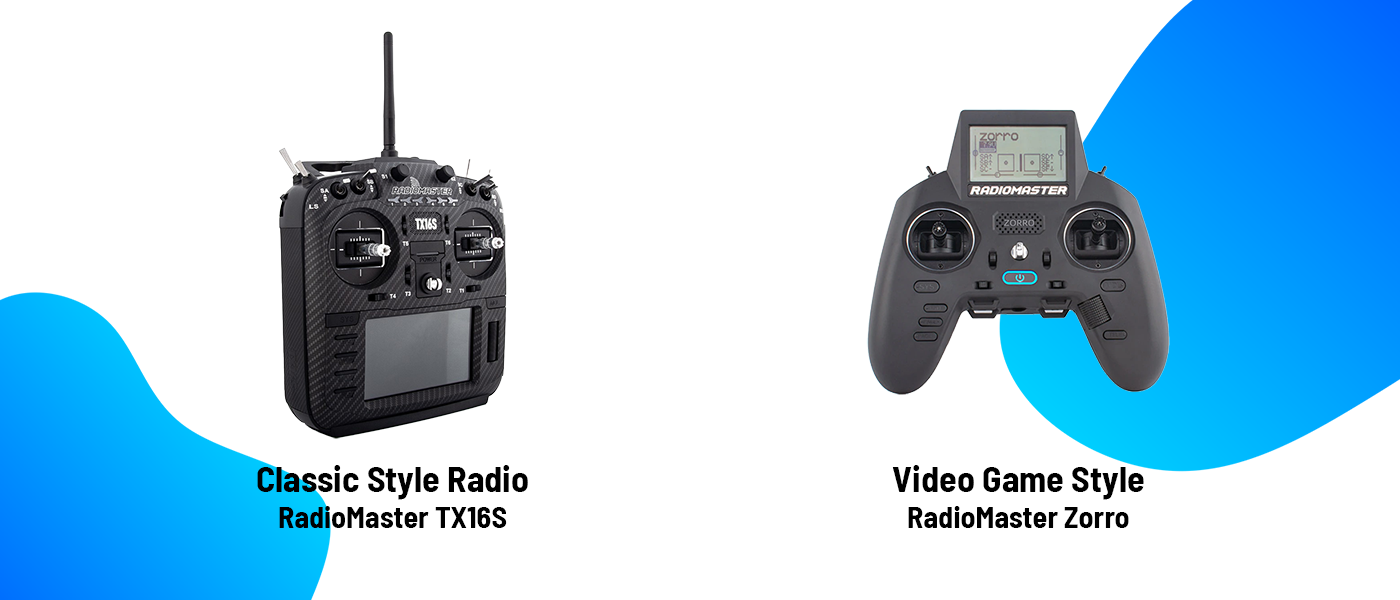 Other Considerations
Channels/Switches
Channels are the data equivalent of the switches/controls on your radio. Your gimbals each have 2 channels (throttle, yaw, pitch, and roll). Each of your radio's switches and knobs are additional auxiliary channels that allow you to arm, disarm, flip (turtle mode), and toggle between flight modes and other features that augment your quad beyond just flying it. FPV quads don't require that many channels and most radios come with at least 4 switches.
Operating System
You don't need to read anything else as a beginner, just buy a radio that runs EdgeTX or OpenTX which are industry standards and highly configurable. These days, EdgeTX has the edge (sorry) over OpenTX because of wider developments and features released.
Gimbal-Type
There are two types of gimbals, the stick and mechanism on your radio:
Hall Sensor - Uses magnets to keep the sticks positioned and are more accurate.
Potentiometer - Cheaper and not as durable as hall sensors.
As a beginner, you won't notice much of a difference between the two. You also have the ability to upgrade to hall sensors on some transmitters. If price is a sticking factor, you won't be disappointed with a radio that has potentiometers.
Mode
Radio mode refers to the configuration of your radio's sticks. The most common is Mode 2. If you want to be consistent with other pilots and learn the industry standard, go with Mode 2. If you think you'll ever use anyone else's quads or follow tutorials, they will likely be using Mode 2. Ultimately, this is a personal preference.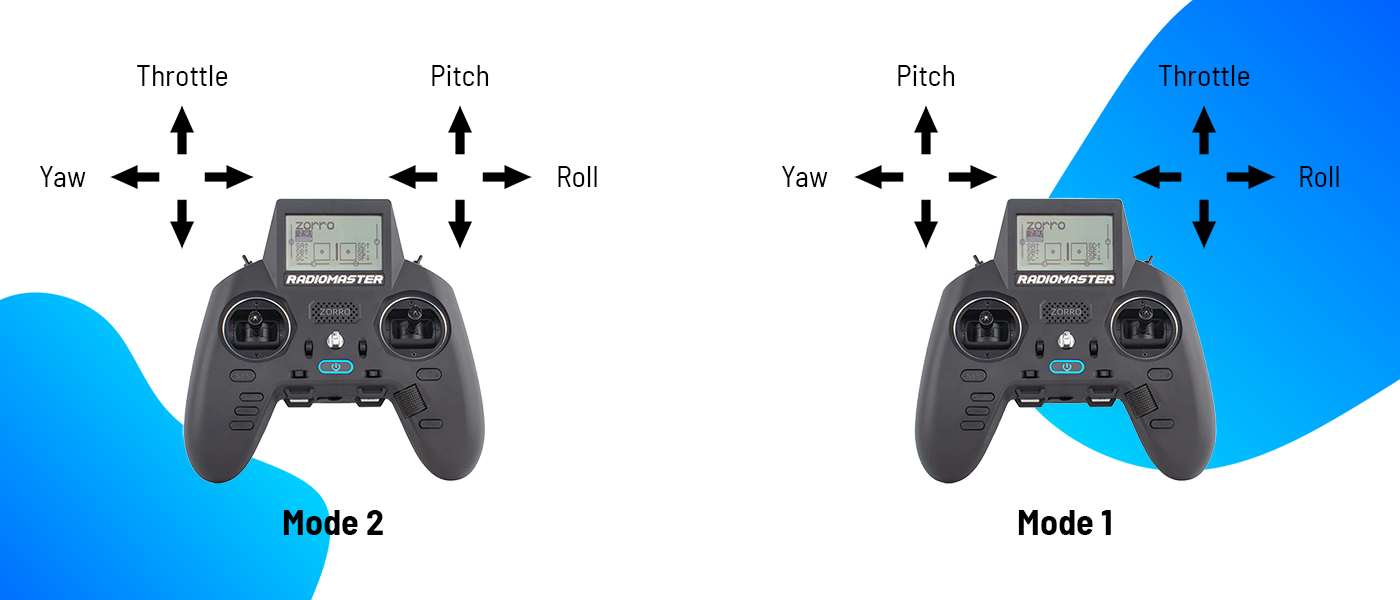 Telemetry
Most modern radios support telemetry. If your quad's receiver has telemetry support, it allows your quad to send information, like signal strength and current battery draw, back to the transmitter for display on your radio's screen or goggles.
QuadPartPicker's Radio Recommendations
Alright, so which radio should you get? These are our recommendations.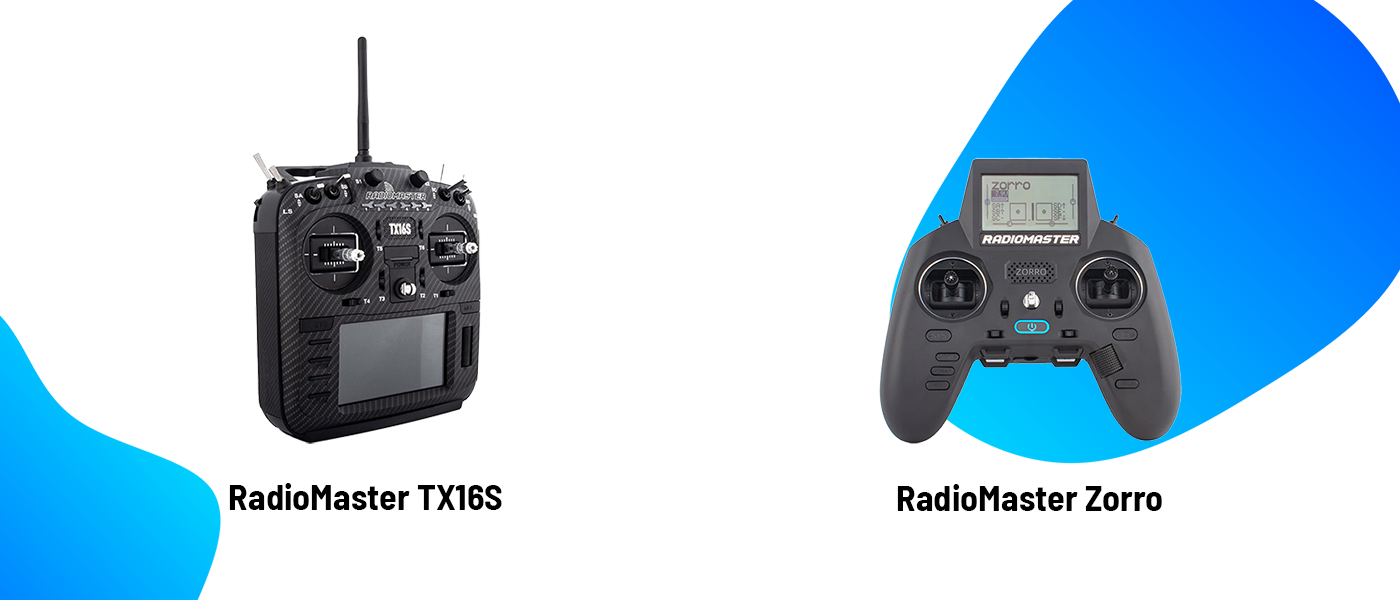 Versatile, Upgradeable, and High-Quality
Our Pick - RadioMaster TX16S MKII
The TX16S and its higher-end versions are time-tested and industry standard when it comes to radios. It offers wide support; if you come across a challenge with this radio, chances are someone else has it figured out already.
The Mark 2 version of the TX16S comes with an option for a ELRS transmitter or multi-protocol built-in. It has upgraded hall sensor gimbals, the ability to adjust stick tension from the front, slightly altered ergonomics, a 3.5mm audio jack, USB-C ports, improved internal circuitry, and improved knobs and sliders.
Open-Source, Upgradeable, and Portable
Our Pick - Radiomaster Zorro
With multi-protocol and ELRS options available, the Zorro takes everything that's great about the TX16S and shoves it into a much smaller form-factor.
Runner up - Jumper T-Pro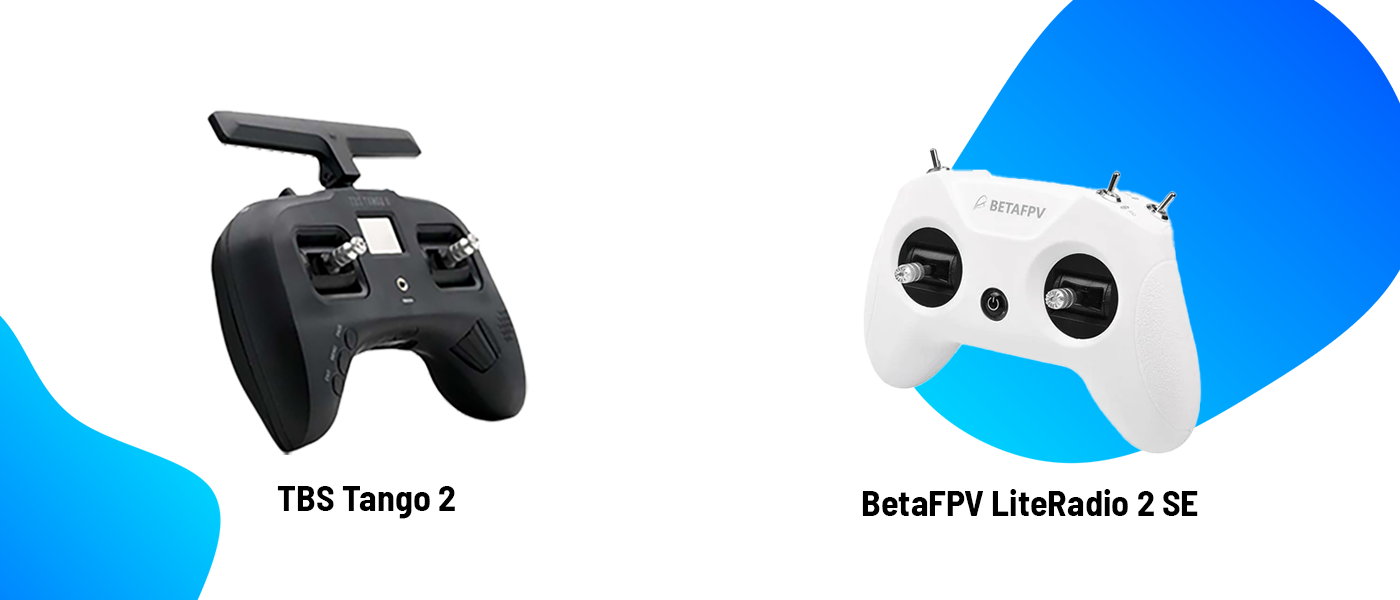 Easy-to-Use, Portable, and High-Performing
Our Pick - TBS Tango 2
The Tango 2 is one of the few radios available with Crossfire built in. If you plan to use Crossfire, this radio is for you.
Cheap, For Beginners, Gets the Job Done
Our Pick - BetaFPV LiteRadio 2 SE
The LiteRadio 2 SE works with simulators, tiny whoops, and anything else really. You're limited to a single receiver protocol, but it's available in both ELRS and FrSky options, so as long as you have receivers that support your chosen protocol, you're all set.
Runner up - iFlight IF8-E
Receiver Chart
Lastly, when considering a radio, you'll also need to account for your quad's receiver. A multi-protocol radio gives you a wide variety of receiver options, but always double check if your receiver is supported. If you've chosen a single protocol radio, here's a handy chart of popular RF protocols and receiver options.
Find the right receiver across various retailers here.

Was this article just a very long love better to ExpressLRS? Yes — ELRS is definitely having a moment, and for good reason. We're optimistic that with continued development and support, ELRS will become a leading standard in both standard and long range radio links.
So, which radio are you going with? Find the radio for you on QuadPartPicker.