Everything to Know About Naked GoPros For FPV
If you're into cinematic FPV, micro drones, or ultra-lightweight quads and want to get the best HD video, consider these HD camera options.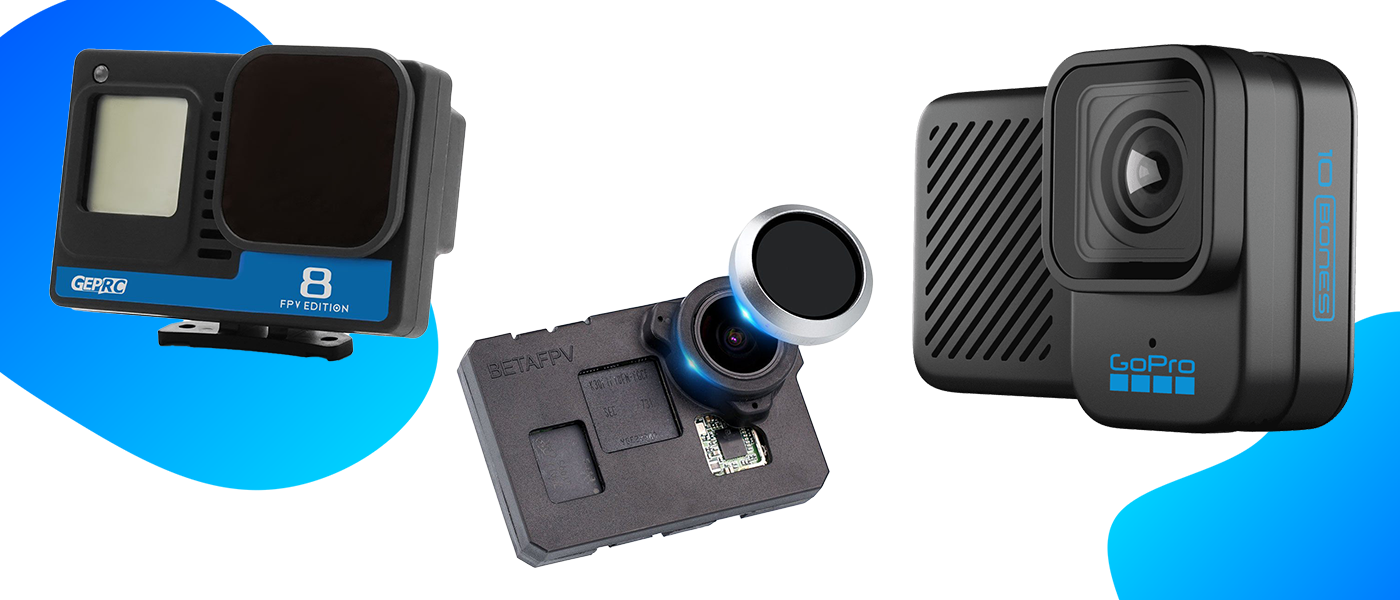 If you fly cinematic FPV, micro drones, or ultra-lightweight quads and want to get the best HD video, you've probably weighed the pros and cons between buying a product off the shelf and sacrifice on video quality, or stripping down a GoPro and sacrifice ease-of-use and trashing an expensive GoPro. In this issue, we'll discuss naked GoPros and other HD camera options for micro drones. And of course you can always mount these cameras to larger freestyle or long-range quads ultimately shaving your all-up weight.
FPV HD Camera History
For as long as FPV was a hobby, pilots have been strapping GoPros and other HD cameras onto their quads to capture the high-resolution videos that you see today. As the hobby matured, demand for high-quality footage with a small footprint soared.
Manufacturers slowly addressed this by introducing a slew of cameras that were lightweight, but had drawbacks. Because the newest smaller cameras had lower quality video than the latest 2 or 3 generations of GoPros, enthusiasts found a way to remove all the extraneous components of GoPros like the screen and battery. This method worked really well since the discontinuation of the GoPro Hero Session. Today, FPV folks regularly de-case their Hero6, 7, 8, 9, and now, Hero10. With the proliferation of small and light-weight quads, demand for lighter GoPros have only increased.
These days, if you want to de-case your own GoPro, you can buy a kit and find many tutorials online. Keep in mind, by doing this, you're voiding the GoPro's warranty. See below for some resources on making your own naked GoPro.
With the history out of the way, today, retailers are finding that the demand is worth creating their own cameras that fill this void. If you're considering whether to buy a lightweight HD camera off the shelf, or DIY it yourself, you have a lot of options to choose from.
HD Camera Considerations
Weight
It's no surprise that weight is often the biggest consideration when pilots choose an HD camera for their quads. Any unnecessary weight that can be removed will contribute to longer flight times and better maneuverability. In some cases, pilots may be trying to keep their all-up weight under 250 grams to skirt around FAA registration. In other cases, pilots just need something tiny to fly in tight spaces.
Ease-of-Use
Pilots who buy a ready-to-use camera don't have to worry as much about handling battery life, powering up your camera, controlling the camera. The camera works right out of the box and provides an experience that isn't cumbersome.
When building your own naked GoPro, pilots have to consider both powering and controlling both the quad and the camera. With naked GoPros, power sources either come from the flight controller board, or directly from your lipo's balance lead connector. Naked GoPro pilots also have to worry about the process in which they power on and off their quad and their camera. If you cut the power to the camera without stopping your recording first, you've likely corrupted your footage (a mistake we've made too many times). Since naked GoPros don't have screens, you have to control it via the GoPro app or other 3rd party apps created specifically for configuring naked GoPros.
Reliability
Off the shelf products just work. When you make your own naked GoPro, you're not really sure whether it's going to work or not, and often times, when you don't know what's not working, you're unable to troubleshoot it. Is it the power lead, is it the unofficial power board, is it a poor connection? This is something we see commonly in the field. If you're working professionally, you want to make sure you have a couple backups which can be expensive.
And since naked GoPros sacrifice durability for a lightweight form factor, a hard crash can immediately render your naked GoPro obsolete.
Stabilization Options
That smooth buttery footage that you see in FPV videos is the result of advances in video stabilization software. One of the best stabilization software is ReelSteady Go which uses the gyro data in the GoPro footage to smooth out the footage. GoPro eventually purchased ReedSteady and rolled it into their GoPro Viewer app. Despite the disadvantages of DIY naked GoPros, pilots still prefer naked GoPros over other HD cameras because they can use ReelSteady. More on this below.  
Video Stabilization - ReelSteady Go and Gyroflow
Back in the day, stabilizing any shaky footage meant cutting out a lot of your frame condensing your footage into a much smaller image. Then, Robert McIntosh and Andy Russel created ReelSteady Go which takes GoPro footage and its accompanying gyro metadata and runs an algorithm that cuts out as little of the frame as possible while spitting out incredibly smooth footage. Since ReelSteady Go only supports GoPros, the trend of de-casing GoPros continued long after other lightweight HD camera options were introduced.
After ReelSteady was released, an open source project called GyroFlow was introduced in beta (now V1) that took gyro data from a suite of many non-GoPro cameras and processed footage similar to ReelSteady to also create an ultra-smooth image. It's also worth noting that GyroFlow is free to use.
ReelSteady is a one-button stabilization on/off, while Gyroflow gives a lot of options and settings to work with. There are ongoing debates on which is the better footage stabilization technology, but with these two options, pilots now have many camera options to choose from.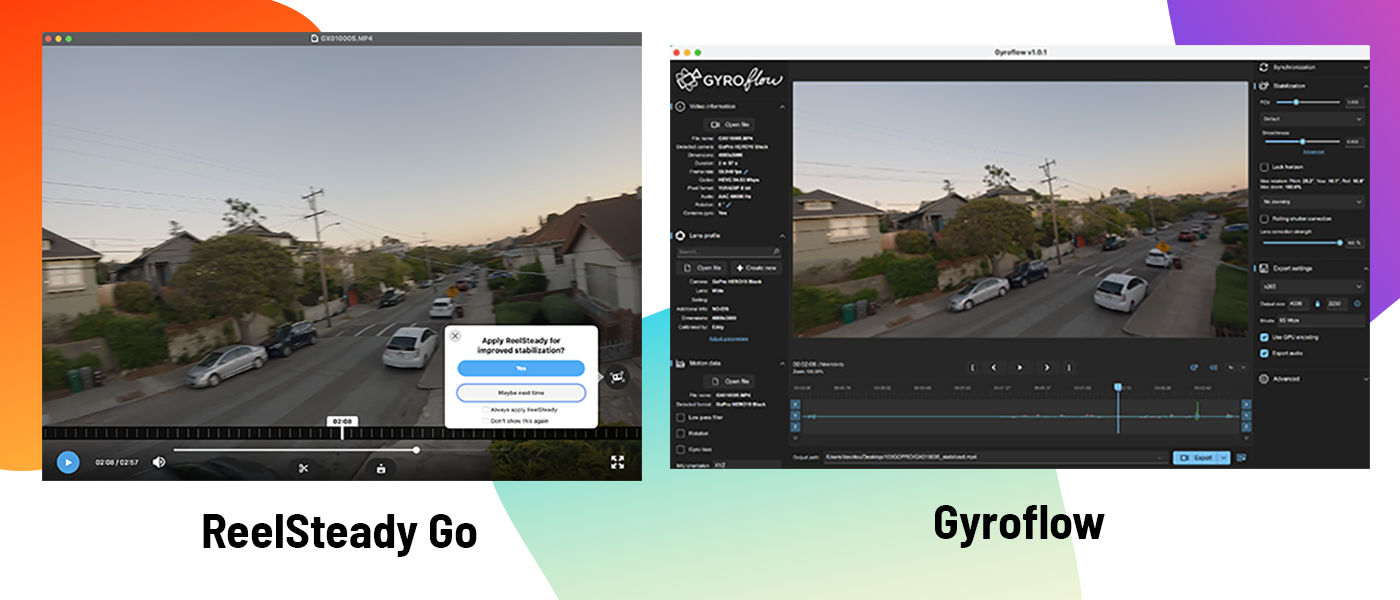 Naked GoPros Available Today
There are a variety of great naked GoPro options available.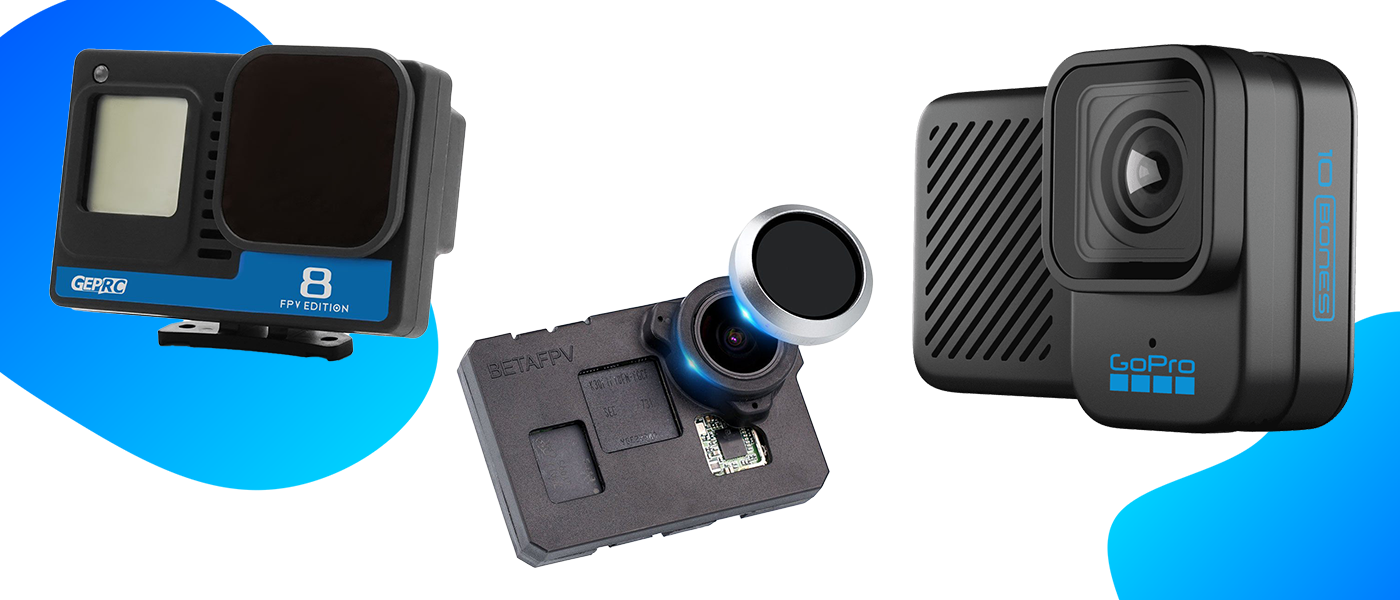 GoPro Hero10 Bones ($400)
GoPro recently introduced a stripped down Hero 10 made specifically for FPV pilots. Pilots rejoiced because it really nails it on the FPV HD camera considerations. It's lightweight, easy to use, reliable, and works (and comes with) ReelSteady Go.
Coming in at on 54 grams, it weighs more than other naked GoPros, but is more resilient to crashes with better housing, supports the bluetooth remote, and comes with an updated DJI Quik App. The Hero10 Bones also retains the mic and is compatible with universal GoPro ND filters.
For pilots who must use naked GoPros professionally, the Hero10 Bones is a no brainer. By compromising a small weight increase, pilots get a plug-and-play flagship GoPro with a warranty and replacement program included.
The GoPro Hero10 Bones is only available through GoPro. Unfortunately, the Bones is only available in the United States. And now that GoPro released the Hero 11 has been released along with the Hero 11 Mini, we don't expect the Bones will be refreshed for the Hero 11.
Flywoo GP11 ($600) GP10 ($500) / GP9 ($350)
Flywoo has taken on the helm for third-party company making naked GoPros. Flywoo consistently offers naked versions of GoPro's family of Hero cameras with the GP11,  GP10, and GP9. For those who need a more modern GoPro that weighs less than the Bones, The GP10 and GP9 both come in at 44g. These come with a fan attached to on the back to help dissipate heat. And of course, this works with ReelSteady right out of the box.
The GP11 is a great choice for those who need the latest and greatest from GoPro in a naked-form-factor. The GP10 and GP9 are great naked options for those who can't get their hands on a Hero10 Bones, like if you're outside of the United States, or you need to shave off as much weight as possible.
They also have a DIY case for $50.
GEPRC Naked Hero8 ($500)
Before the Hero10 Bones was introduced, we imagine GEPRC buying pallets of GoPro Hero8s, de-cased them, and repackaged it into the GEPRC Naked Hero8. The great thing about this is that it also works with ReelSteady. The GEPRC Naked Hero8 weighs significantly less than the Bones at 26 grams, but from a cost and quality standpoint, The Hero10 Bones seems to be the better option right now.
See prices for the GEPRC Naked Hero8 on QuadPartPicker.
BetaFPV Naked GoPro Kit V2 for Hero6/7 ($14 + cost of GoPro)
If you're open to making your own Naked GoPro with an existing GoPro Hero 6 or 7, the BetaFPV Naked GoPro Kit is a must. It brings your total weight down to 25 grams and the cheapest option. Again, you run the risk of destroying your GoPro, but just be careful with it if you go with this option!
Powering your Naked GoPro
Naked GoPros and GoPros with the battery-delete mod are either powered by your quad's flight controller, or your lipo battery's balance lead. Here are some considerations to keep in mind deciding how to power your Naked GoPro
Flight Controller - The BetaFPV kit comes with a built-in 5V BEC (battery elimination circuit) that allows you to power the GoPro from your flight controller. If you do this, you'll have to solder the power wire to your flight controller limiting your ability to use your GoPro with other quads.
Lipo Balance Lead - With the 5V BEC that comes with the BetaFPV Kit, you can also connect your naked GoPro to a lipo via the balance lead. With a tiny bit of soldering you can create your own power cable or purchase an adapter that will allow you to use your naked GoPro with any 2-4S lipo battery.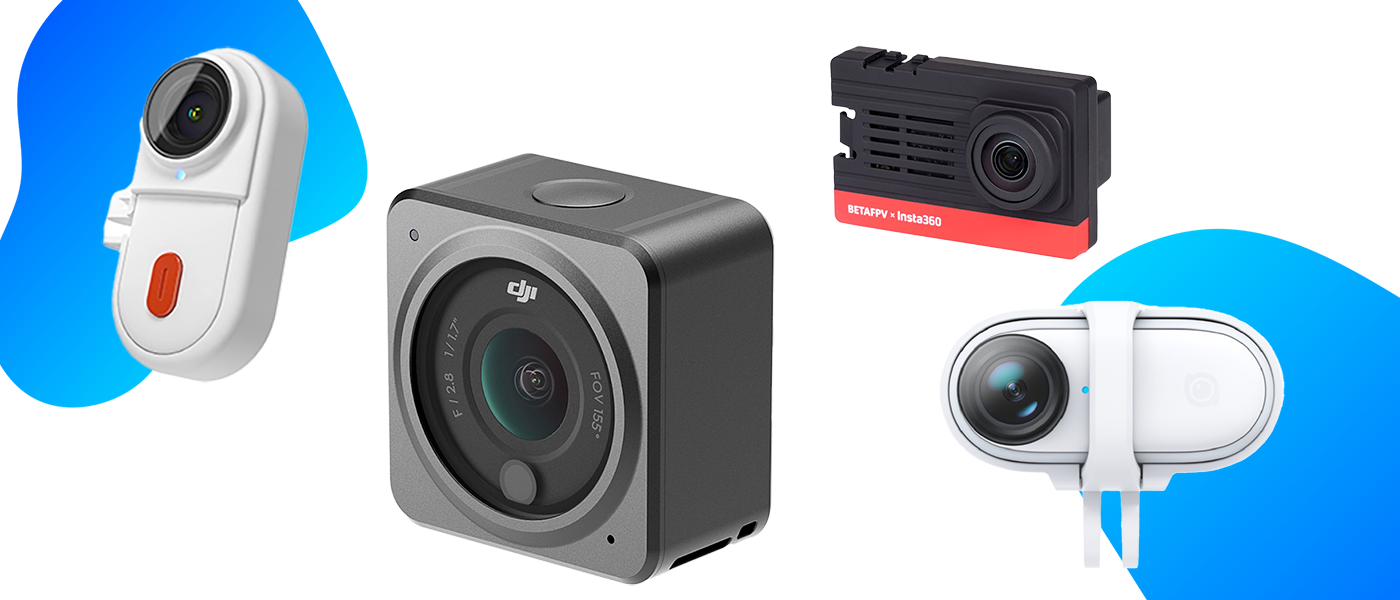 Other FPV HD Cameras
After reading about all the GoPro options, if you're willing to forgo ReelSteady compatibility, want a cheaper HD camera, and something easy to use, here are other HD camera options that are popular with FPV pilots.
Insta360 GO 2 - $250. 28 grams, 1.4K @50/30fps. 1080p @120fps
Caddx Peanut - $260. It's almost the same as the Insta360 GO 2, but optimized for FPV in collaboration with Caddx. 26 grams, 1.4K @50/30fps. 1080p @120fps
DJI Action 2 - $339. Square form-factor, 56 grams, 4:3 aspect ratio, 4K @60fps
Runcam 5 Orange - $110. Cube form-factor like the old GoPro Session, 56 grams, 4:3 aspect ratio, 4K @30fps, 2.7K @60fps
Runcam Thumb Pro - $90. The cheapest 4K camera option available, 16 grams, 4K @30fps, 2.7K @6ofps
Runcam Thumb - $50. One of the cheapest and lightest options available, 10 grams, 1080p @60fps
Insta360 SMO 4K - $239. 30 grams, 3K @30FPS, 2K @60FPS. Might be discontinued
DIY Naked GoPro
Check out Oscar Liang's Naked GoPro tutorial here.
Check out Joshua Bardwell's Naked GoPro tutorial here.
HD Camera / Stabilization Support Chart
Here's a handy chart of the cameras we talked about in this issue.
| Camera | Price* | Resolution/fps | Weight | Native Stabilization | Stabilization Support |
| --- | --- | --- | --- | --- | --- |
| GoPro Hero10 Bones | $400 | 5.3K @60fps; 2.7K 4:3 @120fps | 60g | HyperSmooth 4.0 | Reelsteady Go / Gyroflow |
| Flywoo GP10 | $570 | 5.3K @60fps; 2.7K 4:3 @120fps | 44g | HyperSmooth 4.0 | Reelsteady Go / Gyroflow |
| Flywoo GP9 | $400 | 5K @30fps; 2.7K 4:3 @60fps | 44g | HyperSmooth 3.0 | Reelsteady Go / Gyroflow |
| GEPRC Naked Hero8 | $450 | 4K 4:3 @30fps; 2.7K @120fps | 26g | HyperSmooth 2.0 | Reelsteady Go / Gyroflow |
| BetaFPV DIY Hero6 | $250 used | 4K @30fps; 2.7K @120fps | 25g | HyperSmooth 1.0 | Reelsteady Go / Gyroflow |
| Insta360 GO 2 | $255 | 1.4K @50fps | 28g | FlowState | Gyroflow |
| Caddx Peanut | $260 | 1.4K @50fps | 27g | FlowState | Gyroflow |
| RunCam 5 Orange | $110 | 2.7K @60fps, 2.7K @60fps | 56g | None | Gyroflow |
| RunCam Thumb Pro | $90 | 4K @30fps, 2.7K @60fps | 16g | None | Gyroflow |
| RunCam Thumb | $50 | 1080p @60fps | 10g | None | Gyroflow |
| DJI Action 2 | $340 | 4K 4:3 @60fps, 2.7K @120fpx | 56g | RockSteady 2.0 | None |
*As of this writing
If money isn't a concern and you want the best video quality and user experience, the GoPro Hero10 Bones is your camera, but there are a range of options available to you when considering a lightweight HD camera for your quad.