The DJI Avata and How It Compares to FPV Drones
The Avata is DJI's latest FPV drone, but how does it stack up to the FPV drones available today? We'll breakdown the Avata's features and specs, and compare it to a similar FPV setup available today.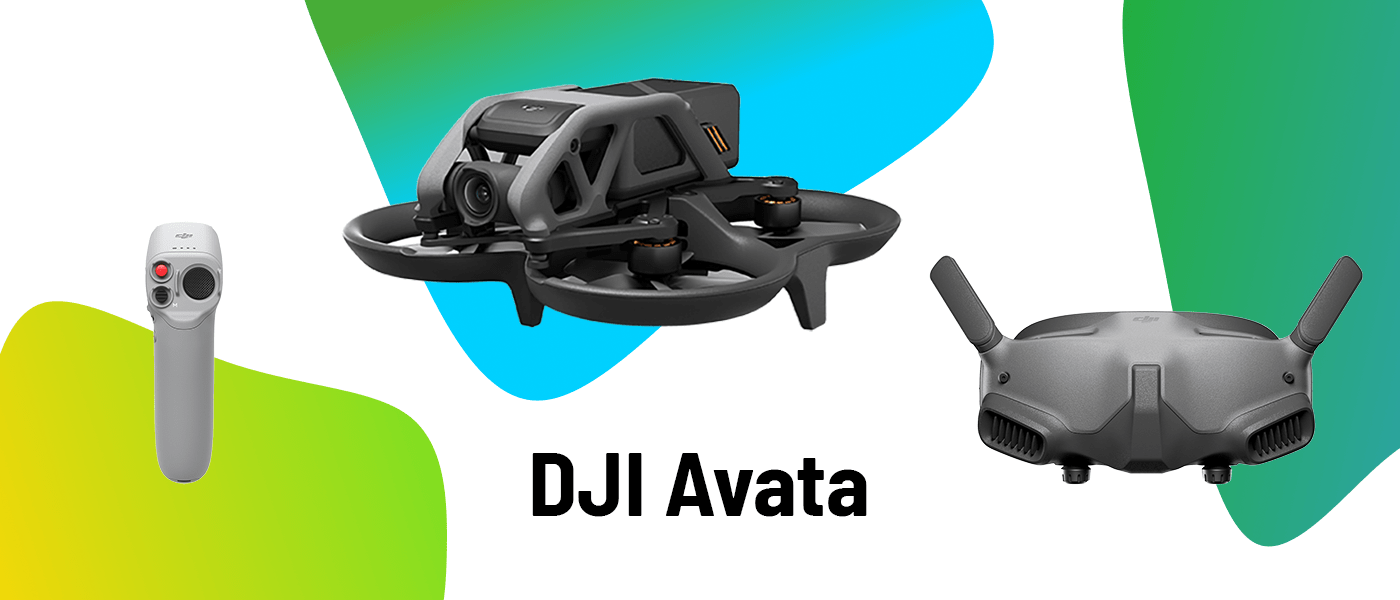 Two years ago, DJI released the DJI FPV drone that helped drone enthusiasts step into the FPV world. Today, DJI furthers this by releasing the long-anticipated Avata cinewhoop-style drone along with the Goggles 2.
The Avata is DJI's latest FPV drone, but how does it stack up to the FPV drones available today? We'll breakdown the Avata's features and specs, and compare it to a similar FPV setup available today.
DJI Makes Flying FPV Easy
It's no surprise that DJI makes drones that are easy to use. The Avata is easy to carry around, setup, get right into the air, and fly seamlessly. With the Avata, DJI packs features that were previously only accessible by FPV pilots and makes them available and easy to use to someone who's new to drones or has flown other DJI drones in the past.
Video Quality and Stabilization
The Avata's camera has a 1/1.7in CMOS sensor with 48 effective pixels. It has a 155° field of view which lands right between the Wide (130°) and Superview (170°) FOV options on a GoPro.
The Avata records 4K resolution video up to 60FPS and 2.7K resolution video up to 120FPS. It has a gimbal to smooth out your footage as you're flying, and includes their native stabilization, RockSteady. If you need even smoother footage, we can expect this footage to be eventually compatible with open-source stabilization software, Gyroflow.
For comparison, the latest GoPro Hero 10 records 5K video up to 60FPS and 2.7K up to 240FPS. A GoPro attached to a cinewhoop can record at a higher resolution and frame rate. For GoPros, you also have native HyperSmooth 4.0 stabilization and post-production stabilization with ReelSteady Go.
The camera system on the Avata is certainly impressive and packed into such a small form-factor.
Flying Style
When you fly FPV drones, your ability to get great footage is ultimately determined by how well you can pilot a drone manually. DJI first addressed this in their release of the DJI FPV Drone. They've now taken that same technology and put it in a smaller form factor in the Avata.
The Avata can fly in various flying styles:
Normal (N) Mode - Uses GPS and/or VPS and flies similarly to your typical DJI drones. It won't allow you to do the same maneuvers as an FPV drone, but gives you the ability to use it as a Mavic.
Manual (M) Mode - This is only available when you use the not-included DJI Remote Controller 2. In this mode, you fly similarly to what Acro mode feels like on a FPV drone. This will allow you to fly the Avata as you please and recreate the types of footage you see on product reviews and the promo video.
Sport (S) Mode - This combines the features of Normal and Manual mode to allow you to keep some of the safety features, but allow you to do more dynamic movements. Most people who buy the Avata will likely fly in this mode.
With typical FPV drones, you really only have manual mode for better or worse. This was consistently a barrier to entry for people who don't want to spent the time learning to pilot and are more focused on getting the right shot.
Compared to FPV
If you want an all-in-one system, no one does it better than DJI. The Avata allows you to do FPV-style shots with everything you need in a single box. However, if you want to fly in full-manual mode with the maneuverability of a FPV drone, you'll need to buy the Remote Controller 2, which will cost extra.
Compared to the Avata, you can buy the DJI Goggles V2 (not to be confused with the just-released Goggles 2), a bind-and-fly cinewhoop like the GEPRC Cinelog35, a GoPro for HD footage, a compatible radio controller, and batteries.
If you're considering the DJI Avata and want to know what it takes to level up even more in FPV, check out what to expect getting into FPV today with our Beginner to FPV Guides.
Fixability
One of the biggest gripes with DJI drones in FPV is fixability. Flying in manual mode is ultimately balancing more risk for more reward. The risk is typically crashing and damaging parts. With non-DJI FPV drones, you can buy off-the-shelf parts to repair your drone in the inevitable event of a crash. But when you crash a DJI drone, you'll be grounded until DJI fixes your drone or sends you a replacement.
With the Avata, the risk is smaller because it comes with prop guards, but doesn't solve the fact that if you're on a job and need your drone operable, your only option is to pick up a new one at $629.
Is The Avata True FPV?
It depends on who you ask. For us, yes it is. You're looking through goggles in first-person. The better question is whether the Avata is right for your needs. And if not, there are many other options that require more work up-front, but give you endless possibilities. Check out all the various pre-built FPV drones available today.
Who is The Avata For?
Lifestyle YouTubers
The Avata is a great turn-key drone for YouTubers who are more focused on combining drone footage with other lifestyle footage. You don't need to learn all the ins and outs of FPV before flying, and that makes it appealing for people who have other priorities, but want good FPV footage.
Real Estate Photographers
Similarly, real estate photographers and videographers who want to add FPV to their repertoire and product offering, the Avata is a good option that again, doesn't require learning FPV prior to getting started.
Drone Enthusiasts
For someone who is used to flying drones but haven't dabbled in FPV yet, the Avata is a great entry point. We love that DJI has introduced a lot of people to FPV who wouldn't necessarily have tried it without their products.
Cost
DJI Avata Standalone - $629 for the Avata only
DJI Avata Pro-View Combo - $1,388 for the Avata, DJI Goggles 2, and Motion Controller
DJI Avata Fly Smart Combo - $1,168 for the Avata, DJI Goggles V2, and Motion Controller
To do full manual mode, you'll have to purchase the DJI FPV Remote Controller 2 for $199.
Comparing The Avata to a Cinelog35 Cinewhoop Setup
Up until the release of the Avata, a comparable FPV setup is a cinewhoop that can carry a full-sized GoPro. A popular cinewhoop today that does this is the GEPRC Cinelog35. In this comparsion, we assume that you also buy a GoPro Hero 10, the DJI Goggles V2, and DJI FPV Remote.
| | Avata w/ Goggles 2, Motion Controller | Avata w/ Goggles 2, FPV Remote | Cinelog35 HD with GoPro Hero 10, Radio, and Goggles V2 |
| --- | --- | --- | --- |
| Price | $1,388 | ~$1,587 | ~$1,223 |
| Manual / Acro Mode | No | Yes | Yes |
| Dimensions | 180 x 180mm | 180 x 180mm | 203 x 203mm |
| Weight | 410g | 410g | ~354g |
| Camera | 4K @ 60FPS, 2.7K @ 120FPS | 4K @ 60FPS, 2.7K @ 120FPS | 5K @ 60FPS, 2.7K @ 240FPS |
| Stabilization | Gimbal, RockSteady | Gimbal, RockSteady | Hypersmooth 4.0 |
We're excited that DJI released the Avata. The more people DJI can introduce to FPV, the better. With the Avata, DJI fills a skill gap that prevents a lot of people from wanting to fly FPV.
We're even more excited about the Goggles 2 and the anticipated release of the O3 Air Unit which will allow anyone to use the Goggles 2 along with a DIY FPV drone. 2022 has been a great year for FPV Goggle technology, and we're here for it!
For anyone looking for something cheaper, flexible, fixable, and wanting to do "true FPV", QuadPartPicker is a great place to get started. Whether you want to buy a drone or build a drone, we have beginner's resources to help get you going.